Yesterday I got both of my inboxes (personal + company) to zero. It felt good.
To get there I went over all my emails and I either:
replied
archived
made a todo
I've been at inbox zero before but I failed to stay there. I failed to stay there because I used my inbox as a todo list. It contained reminders from myself, conversations that were ongoing and needed replying or conversations that needed chasing up on. These all went to a todo list. A todo list powered by Remember the Milk. More specifically, I used the Chrome extension ChromeMilk.
ChromeMilk puts a button in your toolbar that creates a pop-up for you to manage your todo list without needing yet another tab open.
I now use this for anything that crops up that I'm not going to deal with immediately.
After celebrating inbox zero with a little dance I took another look at my email accounts and realised that the gmail interface has a lot going on. I wanted something minimalist now that I had nothing in my inbox. Super Clean Gmail to the rescue! My inbox now looks like: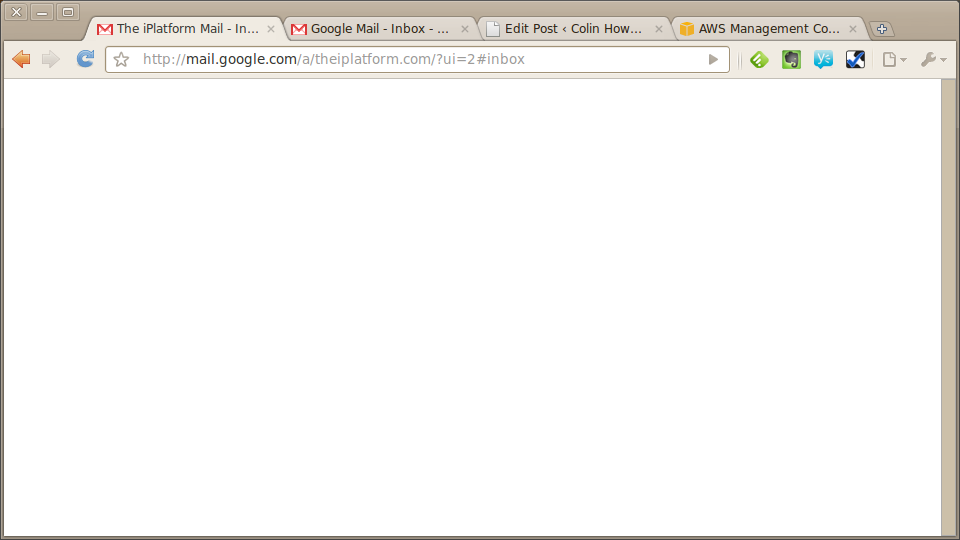 That's right. It's an empty page. When I get an email it looks like:
Simple and clean. If I want to send an email I move the mouse to the left side of the screen and the hidden interface of Gmail reappears.
This really helps me focus. I can see just the emails that haven't been dealt with and get a nice rewarding blank page whenever I've got through the distraction of email. An unexpected benefit is that this helps with writing emails. The interface remains hidden when writing an email which helps with my focus.
From my past experience of being at inbox zero I can safely say that it helped me get on with my actual job instead of sorting through emails. Now that I've combined it with Remember the Milk I've become far more productive :)
Thanks for all the help: ChromeMilk, RememberTheMilk, Super Clean Gmail and Inbox Zero!
Discussion
blog comments powered by

Disqus